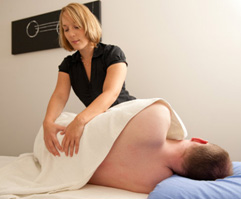 Thousands of people from Melbourne are already experiencing long term pain relief courtesy of Inlign Osteopathy. Inlign Osteopathy is a Melbourne oseopathy treatment clinic situated in the east suburb of South Yarra.
Inlign Osteopathy have accomplished osteopaths to help you restore your body and treat pain. Many of Inlign Osteopathy's patients have achieved this in only a handful of visits.
Information about our treatments
So, How Can Osteopathy Help You?
You're probably aware that there are other health professionals who specialise in treating local parts of your body, such as your back or your joints. Wouldn't it be great if there was a health professional who could treat all the muscles and bones in your body – from your neck and back, to your arms, pelvis and legs?
Well there is – It's an osteopath! An osteopath is a university trained health professional who can offer you one of the most complete and comprehensive manual treatments available. This aims to relieve you of pain such as back pain, neck pain, headaches and much more.
Don't believe the myths about osteopathy. Osteopaths assess and treat all your bones, joints and body systems. Inlign Osteopathy aims to give you the best care and advice possible, so you can become pain free as quickly as possible and for as long as possible. This approach is better for your health and your bank balance.
Tellingly, over 70% of patients have been referred by other satisfied patients.
Why Trust Inlign Osteopathy With Your Health?
Your health is your most important asset, so it makes sense to ensure you choose a health professional you're comfortable with. Unsure where to start? Inlign Osteopathy recommends you take a moment to read the top 10 questions you must ask your health professional, while considering these facts:
With Inlign Osteopathy, you are seeing a practitioner who people already trust. Dr Anin proudly states that "Over 70% of my new patients are referred by other satisfied patients." This is testament to the quality of healthcare Inlign Osteopathy delivers and provides an indication of a great future of the clinic.
Inlign Osteopathy is very serious about ensuring you 100% understand your health and condition. In addition to giving you effective down to earth advice about your health, we will also give you a FREE copy of the exclusive health supplement 30 Essential Facts You Need To Know About Your Body.
You also receive FREE ongoing advice. Unsure about a pain, or do you need to clarify some advice given in a treatment? No problem, just call or email Inlign Osteopathy to discuss any issue free of charge.
You have peace of mind knowing Inlign Osteopathy is a member of osteopathy's premier association. Dr Anin is a committee member of the Australian Osteopathic Association. She adds "I attend regular medical seminars and extra training, to ensure all my current and future patients receive the best care possible. I'm also actively involved in the association's direction and future."
Call Now For An Appointment
Along with patients from South Yarra, we commonly treat people looking for an osteopath in Armadale and osteopaths in Toorak. This is because of our reputation as professional osteopaths and also our convenient locations.
Sick of your discomfort? For more information, or to book an appointment, Contact Inlign Osteopathy.